In the mid-20th century, the "counterculture" was born. Many young Americans were looking for a better way of life away from the mainstream. In California, Southern Humboldt was a natural destination for those seeking that new life. Southern Humboldt emerged as a haven for the counterculture movement.
Today, it is the most renowned cannabis region in the western hemisphere. For more than half a century, cannabis has defined Southern Humboldt. All the things that make Southern Humboldt a natural wonderland also make it perfect for agriculture. The unique soil characteristics and climate conditions were recognized early on by farmers as extremely hospitable. If it's green, it grows, and does so remarkably well. What was counterculture is now a way of life. The cannabis industry grew up here. Humboldt County is to cannabis what France is to wine. Many of the medicinal cannabis strains popular throughout the world were developed here. Science and technology have merged with the spirit of the counterculture movement. Growth techniques that look to preserve the precious land and water resources of the natural environment represent the ideals of the cannabis culture. Residents, farmers, business owners and nonprofit groups are looking within themselves to restore and improve the local environment and wildlife habitat. With legalization, cannabis is undergoing the next phase of cultural integration into the American mainstream. Southern Humboldt is poised to offer up a legacy that will shape the history of this region. Southern Humboldt has a happy confluence of entrepreneurial spirit and unparalleled beauty that makes it a destination you won't want to miss.
For more information, contact the Bureau of Medical Cannabis Regulation 800-952-5210, bmcr.ca.gov, or the Humboldt County Planning Cannabis Services Division (707) 268-3795.
In Southern Humboldt we are using the decades of knowledge and experience of our local farmers to develop best practices for our environment. Our aim is to have integrated, environmentally sound, fish friendly farms.
Regenerative farming practices are becoming a social movement, like using science to create NPK (natural plant nutrients) from local living soils. We practice permaculture and agriforestry, while also developing small-scale, local natural resource-based economies that re-support nature. We are reducing fertilizer use and enhancing the productive capabilities of a thriving natural soil system. We are reinvigorating our land with a new farming model, called Regenerative Farming, where we invest in the nature process, mimicking nature's "closed loops." Our farms are becoming reflections of these intentions with beautiful botanical landscapes of sun-kissed cannabis, and food crops that line forested hilltops, looking down on wild rivers meandering through ancient Redwood tree forests.
-Rio Anderson
To learn more about the Santuary Forest and the Van Arken Community Forest Project, visit:
sanctuaryforest.org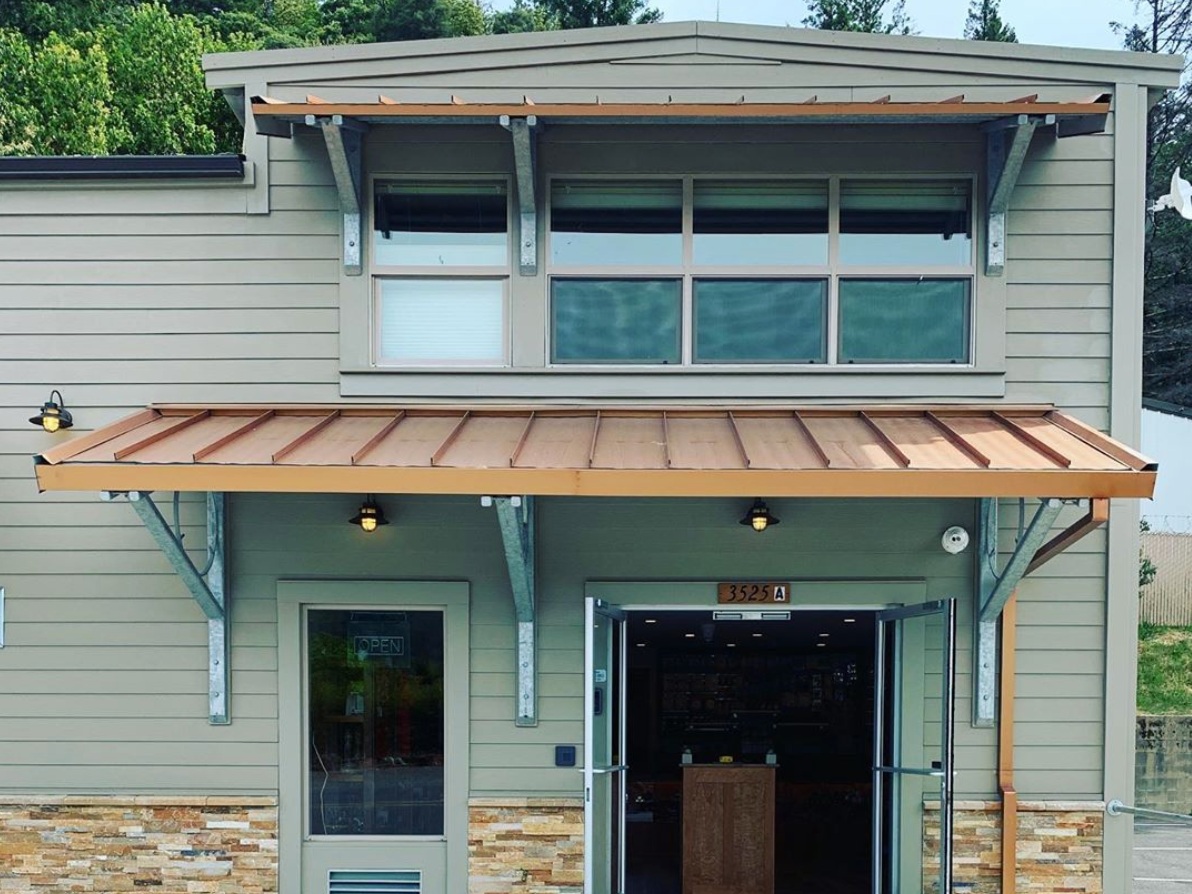 Adult Use Cannabis Retail Shop in Redway, California - Southern Humboldt. 21+ years only please. Specializing in premium, locally sourced southern Humboldt farm products.
Southern Humboldt's favorite dispensary for recreational and medical cannabis. Featuring, concentrates, edibles, and flower.
705 US-101, Garberville
Our first, sold-out event in our Meet the Farmers Dinner series was a huge success and we look forward to sharing more evenings with visitors and our community members. Each event will feature a locally sourced, plated dinner, drinks and special discussions with some of Southern Humboldt's favorite cannabis farmers. Stay tuned to our site and on Instagram @elevatethemagic for additional dates to be determined.
Since May 2015 we have helped facilitate cannabis enthusiasts and those who are curious about marajuana interacting with sustainable cannabis producers at their production sites. Let us show you behind the Redwood Curtain. We strive to provide the most enjoyable authentic and comfortable educational cannabis experience in California. We offer custom crafted trips as well as group tours of working cannabis farms. We showcase the bounty of our robust local food economy and the natural beauty of our mountains, forests and coasts. In Addition to excursions, Humboldt Cannabis Tours is a valuable resource when planing your vacation to the redwoods. We provide cannabis friendly hotel and restaurant recommendations and constantly update an events calendar for the area. If you are visiting the Emerald Triangle let the cannabis connoisseurs at Humboldt Cannabis Tours help you live like the locals. Learn more about our Southern Humboldt tour packages by contacting theshbvb@gmail.com
Private group and corporate tours available, facilitated by SHBVB. Contact theshbvb@gmail.com for more information.
Stay tuned! The SHBVB is currently working with county, local officials and cannabis experts developing educational materials for our Humboldt visitors. Helping create the best guest experience is our goal!
CANNABIS AFFECTS EVERYONE DIFFERENTLY AND SHOULD BE USED RESPONSIBLY!
BE SURE TO FOLLOW ALL LOCAL AND STATE LAWS.
for more information, visit:
BCC CA
CALIFORNIA CANNABIS PORTAL